The Birth is a Romantic Comedy about the most famous family that has ever walked the Earth,
two thousand years before the Kardashian's.
A young Jewish couple meet in a harsh, occupied desert. After finding herself carrying a prophesied child. She must convince her fiance to continue with the marriage, deal with their parents, culture, and an invading army to bring the child into the world.
It is the prequel to the Greatest Story Ever told.
The Birth Manuscript is now available on Amazon.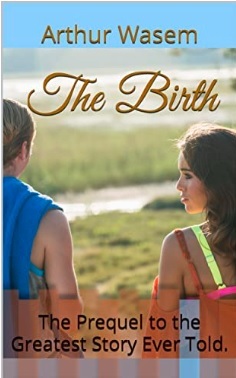 What others are saying about The Birth.
I'm in LOVE with it. You've brought out TOTALLY different side of those characters. I've not, truly, heard their side before.
Tamira Henry - MGM Grand Garden Arena - Las Vegas
-----------
Just finished reading The Birth, it was so good! I think it will be a great movie for all ages especially during Christmas time. I could definitely see how you can market this.
Linda Landsell -
Producer Brentwood
Just returned from a whirlwind week in DC (Presidents Prayer Breakfast), finally getting a chance to come up for air. Got a chance to read The Birth on the plane - LOVED it! Unique perspective, it was captivating from the onset - gave me chills on a number of occasions. I did not find anything offensive, boring, and yes I definitely wanted to keep reading!! Can't wait to see where this goes, and praying for the Lord's favor for you!! Thank you so much for the opportunity to read your writing!!
Kara Nelson - Founder To Be Untamed
----------
I just finished reading, and wow! I am not religious, so my knowledge on this subject is very basic but I love your version of the story! It was very imaginative and I loved picturing it all in my head. I really enjoyed the read, and I love the relationship between Mary and Joseph.

Emma Drake - Actress Los Angeles
Absolutely creative and stunning - Georgette Medina, Los Angeles News Reporter Telemundo
----------
It's a good love story. Nice that it's a love at first sight story, that simmers and actually develops over time so it isn't just instant connection. I don't like those 'we just knew' 'there was an instant bond' stories. The subtle looks and hand holds were very good, honorable feeling. Most of all, I enjoyed how much hope is conveyed through this story.
Sam Harrison - Opryland Nashville
----------
I think you have a real gift as a "story-teller". While reading The Birth, I found myself "visualizing" in my "mind's eye" exactly what "this" would look like as a movie | video that tells an ancient story we all have heard in a "fresh" way that could attract a whole "new generation" or audience that more than likely would "remote" on past TBN type programming. Before I ever went to Spain I knew exactly what Spain looked like because of E. Hemingway, same for N. California because of J. Steinbeck. I say you have a gift because I could "see" this story although it was simply a script and not a novel. I really like how you humanized and modernized the characters and "stepped in a couple piles of taboo" along the way. This also may resonate with an "extended | expanded" audience?

Brent Yandell - Saddleback Community Church
----------

I liked reading the script. I liked how you brought the story down to earth but still left the majesty to it. The Roman Praetor role had some nice depth to it. Sounds like an interesting project.
Michael Jones - Actor San Diego






(C) 2018 Cyrene Productions LLC